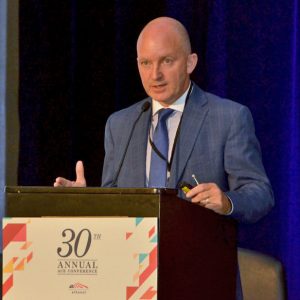 U.S. ethanol exports are setting records this year and that is due at least in part to the efforts of the U.S. Grains Council ethanol advisory team, chaired this year by Jim Glavin, CEO of Lakeview Energy.
Galvin spoke at the American Coalition for Ethanol (ACE) annual conference last week in Omaha about some of the global headwinds and tailwinds for exports. "Number one, we're looking at trying to double exports," said Galvin, noting the industry is expanding at a rate of about three percent a year.
At the same time, Galvin says the U.S. ethanol industry has lately become a victim of its own export success, with major markets like China and Brazil restricting imports this year.
Listen to Galvin's presentation and interview below.
Audio files:
Interview with Jim Galvin, Lakeview Energy

Jim Galvin, Lakeview Energy, remarks
2017 ACE Conference Photo Album