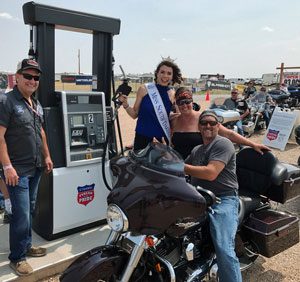 Probably no other contestant at the 2017 Miss America pageant September 10 can say that they have pumped 10 percent ethanol fuel for bikers at the Sturgis Motorcycle Rally. But Miss South Dakota can.
Miranda Mack is from Redfield, home to Redfield Energy and the South Dakota Ethanol Producers Association, (SDEPA) which is a big sponsor of Miss South Dakota. "They sponsor my fuel costs as I travel all over the state this year," she said, as she helped pump fuel and hand out t-shirts, looking only slightly out of place in her heels and tiara!
SDEPA president and Redfield Chief Administrative Officer Dana Siefkes-Lewis arranged for Miranda's appearance at the Free Fuel Happy Hours sponsored by the Renewable Fuels Association (RFA) at the Sturgis Buffalo Chip Campground.
Audio file: Interview with Miss South Dakota Miranda Mack