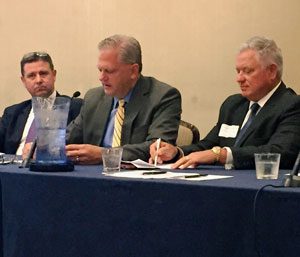 The biodiesel industry turned out in force Tuesday to advocate for higher volumes of advanced biofuels and biomass-based diesel.
National Biodiesel Board CEO Donnell Rehagen says the EPA proposal would maintain the minimum required biomass-based diesel volumes at 2.1 billion gallons for 2019 but decrease the 2018 RFS for advanced biofuels to 4.24 billion gallons. "That's our sweet spot," said Rehagen. "Unfortunately, we're not seeing the growth in those numbers that we would like to see."
Over 30 biodiesel industry representatives attended a public hearing by the EPA held in Washington D.C. Tuesday and at least 20 of them testified, including NBB staff, biodiesel producers, and farmer organizations.
In this interview, Rehagen also talks about how the biodiesel industry fared in last week's court decision: Interview with NBB CEO Donnell Rehagen at EPA hearing