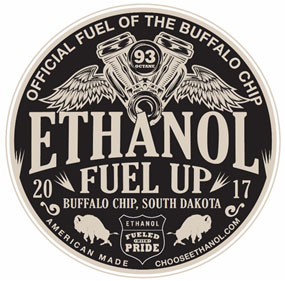 Ten percent ethanol is the official fuel of the Buffalo Chip Campground for the 77th Sturgis Motorcycle Rally Aug. 4-13 in Sturgis, S.D.
The Renewable Fuels Association (RFA) is teaming up with the Buffalo Chip for the ninth consecutive year to promote the benefits of high-octane, low-cost ethanol to the motorcycling community and offer free fuel for bikers.
It will be first Sturgis rally for all motorists to take advantage of a recently opened permanent 93 octane, 10% ethanol fueling station, donated by RFA at the Buffalo Chip Campground, open 24 hours a day to all vehicles, not just motorcycles.
As in previous years, RFA will again sponsor Free Fuel Happy Hours at the rally, providing a free tank of 93 octane E10 for motorcycles. The free tank giveaway will be held Aug. 8-Aug. 10, from 1-3pm MT each day at the Buffalo Chip Campground. RFA will also have a presence throughout the campground with banners, commercials on the jumbotrons and addressing the concert crowd each night.
At the rally, RFA will also sponsor the tenth annual Legends Ride on Aug. 7, which has raised nearly $500,000 for charity since its inception, and will have giveaways, including a free t-shirt with the 2017 RFA .