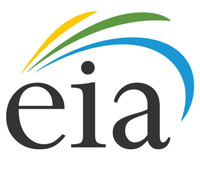 The first half of 2017 has seen new records for weekly ethanol output and inventories, according to the latest U.S. Energy Information Administration (EIA) Today in Energy brief. The report shows a five percent increase over 2016 in U.S. weekly ethanol production, which has averaged 1.02 million barrels per day (b/d) for the first six months of 2017.
On a weekly basis, U.S. ethanol production set a record of 1.06 million b/d in the week of January 27, 2017, and it has averaged near or above 1 million b/d in every week of 2017 except for a few weeks in April, when ethanol plants typically undergo seasonal maintenance. If ethanol production remains relatively high through the second half of the year, as EIA's Short-Term Energy Outlook (STEO) expects, 2017 will set a new record for annual fuel ethanol production.
U.S. ethanol plant capacity increased for the fourth consecutive year in 2017, reaching a nameplate capacity of approximately 15.5 billion gallons per year in January. Annual ethanol production is able to exceed capacity this year because production capacity has likely been added since the January 2017 capacity survey date, and many ethanol plants are able to operate at levels beyond their nameplate production capacity.