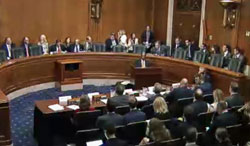 It was no surprise that the Senate Committee on Environment and Public Works decided last week not consider the Consumer and Fuel Retailer Choice Act (S. 517) before August recess, given the strong opposition to the bill by committee leadership, but it was still a disappointment to the industry which has vowed to continuing fighting for the legislation to allow E15 to be sold year round.
"ACE members appreciate the leadership of Senators Fischer (R-NE) and Donnelly (D-IN) for spearheading bipartisan legislation to extend Reid vapor pressure (RVP) relief to E15 and higher ethanol blends, and we won't give up in the face of obstruction from opponents in the Environment and Public Works Committee," said American Coalition for Ethanol (ACE) Executive VP Brian Jennings. "As senators return to their home states during the upcoming August recess, we encourage ACE members press them on the need to whip up enough bipartisan support to eventually enact this legislation."
From the National Corn Growers Association (NCGA) – "It is unfortunate that some have turned a focused effort to remove an outdated regulatory barrier into a referendum on a wide range of other issues unrelated to a simple question, which is whether a consumer choice barrier for three months of the year is still justified."
Growth Energy CEO Emily Skor said, "We will continue to work with our bipartisan sponsors to enact this bill to provide drivers across the country cleaner fuel options year-round that are better for the environment and save Americans money every time they fill up the gas tank."
The committee held a hearing on the bill last month where Chairman John Barrasso (R-WY) made his opposition clear.