Over two months since he took office, Agriculture Secretary Sonny Perdue is finally getting some nominations to fill USDA positions.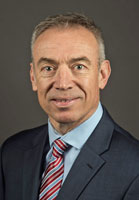 Late Thursday, Perdue announced that President Trump has nominated American Soybean Association CEO Stephen Censky to be Deputy Secretary of Agriculture.
"Our work has only just begun in delivering results for the people of American agriculture, and the experience and leadership skills of Stephen Censky will only enhance our efforts. He will bring enthusiasm and a dedication to this country which will be great assets to USDA's customers. I am extremely pleased with the nomination for this key position and am hopeful that the Senate will take it up in short order."
Censky has been CEO of the American Soybean Association since 1996 and the association strongly backs his nomination.
"Steve has guided our organization for 21 years and in that time he has proven himself as an effective, dedicated and visionary voice on behalf of soybean farmers nationwide. Nobody in agriculture is better equipped to assist Secretary Perdue in meeting the needs of farmers with practical solutions than Steve. He is a perfect fit for this role and we give him our strongest endorsement," said Ron Moore, ASA president from Roseville, Ill.
The National Biodiesel Board (NBB) also proudly supports Censky's nomination. "President Trump's pick of Steve Censky to be Deputy Secretary of Agriculture is an outstanding step forward for agriculture and the countless related markets, like biodiesel, that play a key role in supporting our economy," said NBB CEO Donnell Rehagen.
The nomination must be approved by the U.S. Senate, which already has a backlog of about 150 presidential nominations not yet approved.