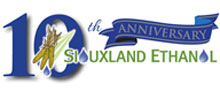 Siouxland Ethanol is only one month into a new MSW Energy Recovery (MER) project and already results have exceeded expectations.
The Nebraska-based ethanol plant reports that natural gas usage for the month of June was lowered by 17.8%, from 23,200 BTU's per gallon to 19,058 BTU's per gallon, which will result in nearly $1 million in savings on an annualized basis.

"Siouxland Ethanol plans to apply for a new carbon index score from the California Air Resources Board (CARB)," said president and CEO Nick Bowdish. "We anticipate our new CI score will be 4-5 points lower than our current score of 72.63. The new CI score, made possible by the MER project, will provide additional value for all of the ethanol that we currently sell in the California market." Application to CARB for a new lower CI score will be submitted after three months of operational data is gathered.
MSW Consulting, Inc. is the design-build engineering firm that developed the MER project and Siouxland Ethanol is pleased to be the first ethanol plant in the country to install it.