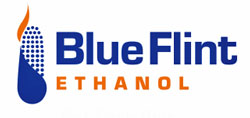 Blue Flint Ethanol near Underwood, ND is the latest plant to celebrate ten years of operations.
The 70 million gallon facility has produced over 650 million gallons of ethanol in its 10 years of operations. Located adjacent to Coal Creek Station, it is the first co-located, directly integrated ethanol plant in the world. As a by-product of generating electricity, Coal Creek Station produces process steam which Blue Flint Ethanol uses as the thermal energy in its ethanol production process. Since Blue Flint began producing ethanol and dried distillers grains in February 2007, the plant has evolved into a biorefinery, integrating corn oil production and an E85 blending station.
Blue Flint is owned by Midwest AgEnergy Group and was named after the blue flint corn grown by Indian tribes that once lived in the Missouri River Valley near the plant.