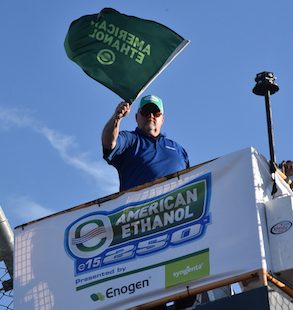 Enogen hosted about 1,200 farmer-customers at the American Ethanol E15 250 Presented by Enogen. As Enogen continues to grow, the NASCAR race held at Iowa Speedway was the perfect place to spotlight the farmers who supply the Enogen which will produce about 2 billion gallons of ethanol this year.
"We see this race as a great opportunity to support the efforts of E15. E10 is already blended in 89% of the fuel consumers purchase. The E15 market is just developing and can really help corn farmers. As Enogen, I can't think of a better place for us to step up and demonstrate how we can help famrers," said Ron Wulfkuhle, head of Enogen at Syngenta.
Ron said the Enogen footprint is growing in local communities providing new income and incentives. Other examples of those helping to expand that footprint include partnerships with Growth Energy and Kum & Go to contine sharing the message of the clean-buring, high-octane fuel E15 gives customers.
Listen to my complete interview with Ron here: Interview with Ron Wulfkuhle, Enogen at Syngenta
View and download photos from the race here: American Ethanol E15 250 Presented by Enogen Syngenta Photo Album