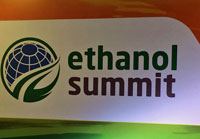 Renewable Fuels Association (RFA) President and CEO Bob Dinneen addressed participants of the 2017 Ethanol Summit this week in São Paulo, Brazil.
Dinneen's remarks focused on trade, President Trump, and the environment. "The president has repeatedly expressed his support for biofuels, ethanol and for the Renewable Fuel Standard and we are extraordinarily confident that President Trump understands what we are trying to do and will help this industry grow," said Dinneen. "His agenda, which includes dramatically removing and repealing regulations that only thwart the development of business, is much needed for our industry and we look forward to his regulatory reform agenda and helping us open up new market opportunities across the country."
Dinneen expressed his concerns about Brazil's recent trade decision regarding ethanol. "I was surprised when UNICA and the Brazilian government proposed a new tariff on U.S. ethanol – that does not help anybody. It hurts Brazilian consumers who will be denied access to the lowest cost octane on the planet. I implore you to continue to support free trade and the free flow of ethanol across the globe," said Dinneen.
The event, hosted every two years by Brazil's sugarcane organization UNICA, brings together major stakeholders in the ethanol, sugarcane and renewable fuels sectors from across the world to discuss a variety of topics that are important to their industries.