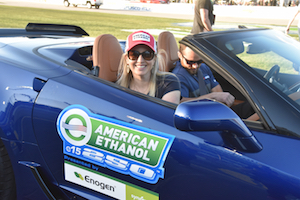 The story of biofuels seems pretty simple when you hear the words, "Engine smart and earth kind," from Growth Energy's CEO Emily Skor. The Iowa Speedway is smack-dab in the middle of corn country. You can't find a better location for the NASCAR Xfinity American Ethanol E15 250 presented by Enogen Syngenta.
"E15 is a win, win fuel for consumers. It's the 21-century fuel for the 21-century consumer and for their 21-century car," said Skor. The clean burning fuel boosts performance and is better for the environment using fewer greenhouse emissions leading to cleaner air for us all to breath. Skor said savings at the pump is just icing on the cake when it comes to E15.
As a consumer, even NASCAR at first had questions. But after seeing it in action, they were quick adopters. "If it's good enough for the most demanding road conditions, then it's good for driving your kids to soccer practice too," said Skor.
Listen to my complete interview with Emily Skor here: Interview with Emily Skor, Growth Energy
View and download photos from the race here: American Ethanol E15 250 Presented by Enogen Syngenta Photo Album