The NASCAR Xfinity American Ethanol E15 250 presented by Enogen was held Saturday at the Iowa Speedway to help promote ethanol in one of the top producing states. The race marked the fifth year of partnership between Syngenta and Growth Energy to demonstrate the value of E15, which has been powering NASCAR for 10 million miles of competitive racing since 2011.
"The American Ethanol E15 250 is an excellent opportunity for sharing the story and benefits of Earth-friendly American ethanol with consumers. Syngenta is pleased to once again be working with Iowa Speedway, Growth Energy and the FFA in supporting the ethanol industry through our sponsorship of this signature event," said Ron Wulfkuhle, head of Enogen at Syngenta. "With E15, drivers across the country have a great and more affordable choice at the pump.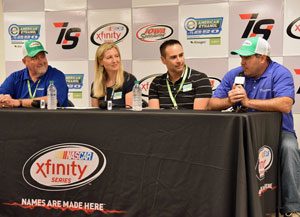 Enogen® corn enzyme technology helps to enhance ethanol production and make ethanol even more sustainable. Syngenta is working with a growing number of ethanol plants to expand the opportunity for growers. By the end of 2017, Syngenta anticipates more than 200 million bushels of Enogen corn will have been grown on more than 1 million acres, contributed to nearly 4.5 billion gallons of ethanol produced, and resulted in approximately $60 million in premiums paid to growers.
Earlier this year, Syngenta announced a $340,000 donation to the Prime the Pump Fund. Prime the Pump is helping high-volume, progressive-minded and industry-leading fuel retailers, who will demonstrate the performance, cost savings and profit opportunity of marketing higher ethanol blends, such as E15.
Enogen and Growth Energy held a press conference at the track with Wulfkuhle; Chris Tingle with Enogen; Growth Energy CEO Emily Skor; Jim Pirolli with Kum and Go, and NASCAR driver Brendan Gaughan. Listen to it here: Syngenta, Growth Engery Press Conference
American Ethanol E15 250 Presented by Enogen Syngenta Photo Album