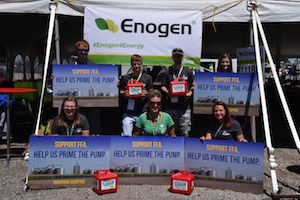 Members of the Twin Cedars FFA Chapter in Bussey, Iowa, canvassed Iowa Speedway racegoers prior to the American Ethanol E15 250 presented by Enogen on June 24. Their goal was to increase awareness of the benefits of E15 and raise money to support Prime the Pump. Funds raised will be matched by Syngenta, and Twin Cedars members will earn money for their local chapter.
"Engaging the public about ethanol and renewable fuels is a good opportunity for my students," said Miranda Johnson, advisor of the Twin Cedars FFA Chapter. "They are the future and they understand the importance of conservation and preservation of our land and resources – and the vital role farmers play in feeding and fueling our country."
Mrs. Johnson said her students learn about ethanol production and its benefits through their classroom curriculum and the race provides additional hands-on application as they see E15 at work. Over the years, Twin Cedars have used the matched funds for a number of things including greenhouse updates.
Listen to my complete chat with Mrs. Johnson and her class here: Interview with Twin Cedars Advisor, Miranda Johnson
View and download photos from the race here: American Ethanol E15 250 Presented by Enogen Syngenta Photo Album