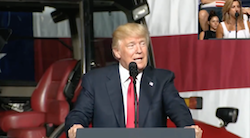 President Donald Trump stood among various models of John Deere and Case IH farm equipment as he pledged to boost agriculture exports, loosen federal regulations on the agriculture industry, and support ethanol and biofuels yesterday while speaking to a crowd of about 250 at Kirkwood Community College in Cedar Rapids, Iowa.
"Today we are celebrating the dignity of work and the greatness of the American farmer," said President Trump. "I'm not a farmer, but I'd be very happy to be one. It's a very beautiful world to be in."
President Trump began his speech by congratulating former Iowa governor Terry Branstad before he leaves for Beijing on Friday to begin serving his new role as U.S. Ambassador to China. Branstad stepped up to the podium following the send-off to praise the Trump Administration's work in re-gaining access for U.S. beef in China.
In his speech, President Trump pledged to support and protect corn-based ethanol and biofuels, emphasized his commitment to reforming the nation's existing trade agreements, advocated for improving rural infrastructure, including access to rural broadband and increased resources for vocational programs like Kirkwood, and pledged to eliminate "the intrusive rules that undermine farmers' ability to make a living."
"U.S. farmers produce great products, but you have to work too hard and too long to make a living," said President Trump. "We're going to make it easier to produce and grow in America by eliminating job-killing regulations and supporting schools like Kirkwood that are helping to train young people in the cutting edge technologies that are making American agriculture greater and more productive than ever before."
Prior to his speech, President Trump toured Kirkwood and learned about the institution's successful precision agriculture program. He expressed sincere understanding and respect for the technologies that have advanced modern agriculture and pledged his support for the continued advancement of agricultural technologies and educational programs.
"If we continue to train our workers in these new technologies, then we will usher in a new era of prosperity for American agriculture and for the American farming family," he said.
Listen to the full speech here: President Trump at Kirkwood Community College