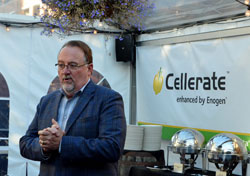 At the Fuel Ethanol Workshop in Minneapolis this week, Syngenta was spreading the word about the winning combination of Cellerate™ process technology and Enogen corn for ethanol plants.
Ron Wulfkuhle, head of Enogen at Syngenta, explains that Cellerate converts corn kernel fiber into cellulosic ethanol to get more ethanol from the same kernel of corn. "For the ethanol producer, it means they can increase through put as well as take advantage of part of the corn kernel fiber to make ethanol," he said.
During a dinner for ethanol producers at FEW, Wulfkuhle announced a new partnership with plant builder Fagen Inc. "They've agreed to be our preferred builder," said Wulfkuhle. "They've had their scientific staff working with us for about six months and have come to the conclusion that this is a technology they can get behind."
This is a big week for Enogen with the NASCAR XFINITY Series American Ethanol E15 250 presented by Enogen coming up this weekend at the Iowa Speedway, and Wulfkuhle says they will be supporting the future of farming at the race this year. "We're going to be working with the FFA doing a fundraiser at the race and just to make it interesting we've agreed to match whatever they raise," he said.
Learn more about Cellerate, Enogen, and the race in this interview.
Interview with Ron Wulfkuhle, Enogen