Ethanol supporters and retailers made their case before the Senate Committee on Environment and Public Works committee for a bill that would fix a frustrating and confusing situation and allow 15 percent ethanol to be sold year round.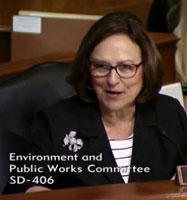 The Consumer and Fuel Retailer Choice Act, sponsored by Senator Deb Fischer (R-NE), would extend the Reid vapor pressure (RVP) waiver to ethanol blends above 10 percent during the summer months to provide regulatory certainty and increase economic opportunity for fuel retailers. "Currently, it's illegal for E15 to be sold during the busy summer travel season from June 1st to September 15th," said Fischer. "As a result, fuel retailers are required to change fuel labels at the pumps before and after the summer season. This leads to increased costs and greater confusion for consumers."
Listen to Sen. Fischer's remarks here: Sen. Fischer E15 Hearing
Mike Lorenz with Sheetz, a Pennsylvania-based convenience store chain, testified that they recently started offering E15 at 190 of their store locations because consumers want to buy it. "And after millions of E15 transactions by thousands of customers purchasing millions of gallons, we have not had a single customer complaint or any cases of misfueling."
Lorenz says their experience with E15 found that during the RVP months, they lose 40 percent of their customer base. "It makes no sense to make a fuel retailer see sales plummet during the summer driving months because of an outdated regulation in desperate need of a simple technical fix," he said.
Listen to Lorenz' comments here: Mike Lorenz, Sheetz, opening statement