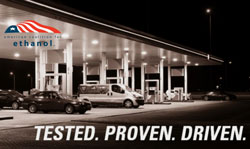 The 30th annual American Coalition for Ethanol (ACE) conference is coming up Aug. 15-17 in Omaha with the theme of Tested Proven Driven and a big focus on marketing E15 and higher blends.
"This year's conference again showcases people who are doing the actual work of developing new markets for ethanol," said Ron Lamberty, senior vice president of ACE.
The conference will feature two fuel marketers talking about what they have had to do to make higher blends available to more consumers. Charlie Bosselman of Bosselman Enterprises and Pump & Pantry c-stores will be joined by JETZ Convenience Centers owner Bob O'Connor to explain how they're adding E15 and flex fuel locations and how those new fuels impact their bottom lines.
"If you want to sell more ethanol, the easiest, most cost-effective way is by listening to the people who are already out there getting it done," Lamberty said.
The conference also features a breakout session with Bosselman Enterprises and Husker Ag to explain how they are growing their volume by supplying ethanol directly to retailers by passing on Renewable Identification Number (RIN) value and promoting ethanol's other marketplace advantages.
Registration is now open and you can listen to this interview to find out more of what's in store at the 30th ACE Conference. Interview with Ron Lamberty, ACE on annual conference