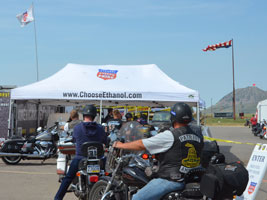 New polls commissioned by Growth Energy show that U.S. small engine and motorcycle owners are smarter than the oil companies think they are and the majority are quite capable of choosing the right fuel for their needs.
The polls, conducted by Quadrant Strategies, interviewed 500 homeowners who used small engine products such as lawnmowers, and 500 motorcyclists. They found almost identical results with 95-96 percent of owners saying they found it easy to pick the right fuel, 98 percent reporting satisfaction with their fuel's performance, and 90 percent who considered it important to have options at the pump, including ethanol blends. This is contrary to ethanol critics who claim that higher blends of ethanol, such as E15 which is not approved for small engines or motorcycles, will cause confusion and misfuelling issues.
"Ninety-seven percent of all fuel sold in the U.S. contains 10 percent ethanol, which is a high-performance option for all common outdoor equipment," said Donn Larson, President and CEO of Larson Sales, Inc., one of America's premier outdoor power equipment distributors, with a network of hundreds of dealers, covering a large part of the north central United States. "Ethanol provides a non-toxic octane boost to fuel, and owners report that picking the right blend is as simple as reading the label on every pump. It also reduces the need for freeze-preventing additives, which is great for snow blowers."
The Renewable Fuels Association has been sponsoring Free Fuel Happy Hours during the huge Sturgis Motorcycle Rally in South Dakota for several years now as a way of educating bikers about ethanol. RFA also has information about ethanol in the official Buffalo Chip Campground guide to the rally and signage all around the campground and on the center stage jumbotrons where top name entertainers perform nightly.