The Iowa Speedway hosts two racing events this summer that put corn and ethanol in the spotlight on the track.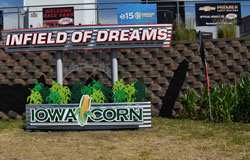 The NASCAR XFINITY Series American Ethanol E15 250 presented by Enogen is coming up Saturday, June 24. This is the fifth consecutive year of the American Ethanol partnership and the fourth consecutive year with Enogen at Iowa Speedway. Enogen corn was specially developed by Syngenta for ethanol production with an enzyme that breaks down corn starch into sugar, which when combined with Cellerate™ process technology can increase ethanol production by 20 percent.
In an interview at last year's race, Chris Tingle, head of Enogen Commercial Operations with Syngenta, talked about the company's support of ethanol. Interview with Chris Tingle, Enogen, at 2016 race
Next month it will be the 11th Iowa Corn 300, one of the major IndyCar racing events of the year, sponsored by Iowa Corn on July 9. "IndyCars, which run at speeds over 200 miles per hour, are powered by 85 percent ethanol, so fans can see firsthand the power and performance of cleaner-burning ethanol," said Iowa Corn Promotion Board President Larry Klever.
This year's race will be one of the premier events to celebrate Iowa Corn Growers Association's 50th anniversary, according to President Kurt Hora. "Promoting Iowa Corn and homegrown ethanol, celebrating 50 years of ICGA and educating consumers will be all accomplished with this one great event," Hora said.