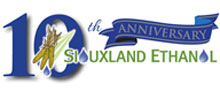 Siouxland Ethanol LLC is hosting an open house on June 13 at its plant near Jackson, Nebraska to celebrate a decade of ethanol production.
"We see the bigger picture even more now than when we started," said Pam Miller, board chair and director of industry and investor relations at Siouxland Ethanol. "Back then, we were mainly concerned with producing the product, but we've expanded our offering of co-products and we're actively involved in promoting the use of higher blends of ethanol such as E30 and advocating for less restrictions and regulations surrounding the sale of ethanol."
Siouxland Ethanol's 10-year anniversary event will include plant tours, a barbecue and remarks from ethanol industry dignitaries and public officials, including featured speaker Nebraska Gov. Pete Ricketts. Renewable Fuels Association CEO Bob Dinneen, American Coalition for Ethanol's Brian Jennings and Todd Sneller with Nebraska Ethanol Board will be among the ethanol industry leaders who will be speaking.
Siouxland joins Redfield Energy of South Dakota in celebrating a decade this year. "Reaching this significant milestone represents the growth this industry has experienced over the past decade, and we're grateful for the value these producers have been able to provide back to their shareholders' year after year," said Jennings.
Over the past year, Siouxland Ethanol has expanded the plant's production to 80 million gallons per year and they use 27 million bushels of corn each year.