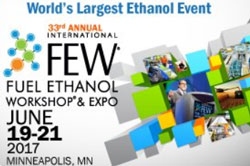 The 33rd annual International Fuel Ethanol Workshop & Expo (FEW) is coming right up, June 19-21 in Minneapolis, Minnesota.
The event, produced by BBI International and Ethanol Producer Magazine, includes more than 140 speakers and four track sessions. "This year's agenda covers the latest innovations and efficiencies currently being developed for ethanol production," said Tim Portz, vice president of content at BBI International. "The agenda committee did an outstanding job of rating presentation abstracts and bringing the brightest biofuels minds together under one roof for this event."
Once again, the National Advanced Biofuels Conference is co-located with the FEW, and will feature the world of advanced biofuels—cellulosic ethanol from corn fiber, biodiesel, carbon reduction strategies, bolt-on technologies, RIN markets and more.