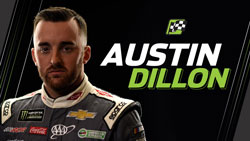 The No. 3 Chevrolet owned by Austin Dillon's grandfather, Richard Childress, returned to Victory Lane during the Coca-Cola 600 for the first time since the late Dale Earnhardt won his last race on Oct. 15, 2000 at Talladega.
It was the first career Monster Energy Series win for Dillon, who races the No. 3 Dow/American Ethanol/AAA Chevrolet SS team car, and the seventh year the NASCAR series has been powered by Sunoco Green E15. Dillon thanked "those partners that were here from the very beginning – Dow, American Ethanol – it feels so good to deliver. They had to believe in me no matter what."
The American Ethanol partnership, which includes Growth Energy and the National Corn Growers Association (NCGA), sponsored the 2014 return of the No. 3 car owned by Richard Childress Racing (RCR). "This is an incredible victory for the No. 3 team, and the entire American Ethanol family is filled with pride – we knew this day would come," said Growth Energy CEO Emily Skor.
"NCGA is obviously thrilled by the win because it further validates the abilities of ethanol fuel on the road and on the track. Specifically, it provides great positive exposure for E15 at a time when the fuel is beginning to make significant gains in consumer retail space, said Paul Jeschke of Illinois who serves as chairman of NCGA's Ethanol Action Team.
The No. 3 was not wearing the American Ethanol paint out for the Charlotte race but it is featured at six races during the year with the next one being the Coke Zero 400 at Daytona International Speedway in Daytona Beach on July 1.