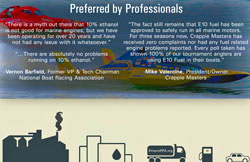 As the Renewable Fuels Association (RFA) expanded its boating and ethanol advertising campaign this week, the owner of a Missouri-based fishing tournament defended the ads against an attack by a boating organization.
BoatUS sent out a scathing press release attempting to discredit RFA's campaign and associated infographic by pointing out the "hard truth" as opposed to RFA "spin," including:
SPIN: E10 is the "preferred choice by professionals" with supporting quotes by the National Boat Racing Association and Crappie Masters.
HARD TRUTH: Both organizations are sponsored by the RFA.
The hard truth is that RFA's association with Crappie Masters is completely transparent and noted in the press release announcing the campaign. "It is true that RFA is a first year sponsor of Crappie Masters, but not the Anglers, who have spoken volumes in support of E10 in their motors," said Crappie Masters president Mike Vallentine. "Nearly three years ago, Crappie Masters began a bonus program, offering additional winnings for the teams that use E10 in their motors. To date, every winning team has collected the E10 bonus, with no reported engine issues."
Vallentine takes issue with BoatUS saying that phase-separated fuel is "a result of too much water in moisture-attracting ethanol fuels" saying, "Ethanol does not cause water phase separation. Bad gasoline ingredients do. Ethanol is a drying agent."
"Crappie Masters is a proud supporter and believer in E10 fuel, as well as a proud supporter of America's farmers, and believes fuel grown at home is the best option for everyone," Vallentine adds.