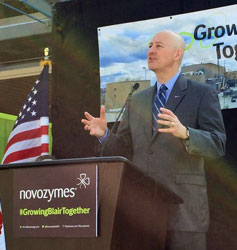 On Tuesday, Novozymes announced a new $36 million investment at its Blair, Nebraska manufacturing facility, which produces enzymes for renewable fuels.
"Nebraska's biofuels industry has been a focus for my administration on trade missions because of the international investment we've seen here in Nebraska," said Nebraska Governor Pete Ricketts. In 2015, Governor Ricketts visited Novozymes' headquarters in Copenhagen, Denmark to meet with senior executives, strengthen Nebraska's relations with the company, and encourage further investment in the state.
"With stable, clear policies like the Renewable Fuels Standard (RFS) that encourage competition at the gas pump, we will continue to grow the market for American ethanol," said Novozymes Americas President Adam Monroe. "This means expanding facilities like ours here in Blair, adding jobs, and generating more revenue for American towns and workers by increasing domestic production of liquid transportation fuels."
While the company's North American presence includes its headquarters in Franklinton, NC, and 10 additional facilities in the United States and Canada, Novozymes' Blair plant currently serves as its only American facility dedicated to the growing biofuel industry.