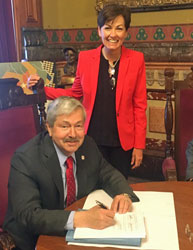 Iowa Governor Terry Branstad signed his last bills as governor of the Hawkeye State last week, including the Rebuild Iowa Infrastructure Fund bill (HF 643), which provides $3 million to fund the Renewable Fuels Infrastructure Program.
"Governor Branstad has been exceptionally supportive of funding renewable fuels and this infrastructure program. We thank him whole-heartedly for his leadership," said Grant Kimberley, Iowa Biodiesel Board executive director. "This is a big win for biodiesel and other renewable fuels. The legislature had previously ended funding for the program, and in a tough budget year where other programs were eliminated, the extension of the Renewable Fuels Infrastructure Program is a clear sign of the Iowa Legislature's support for the biofuels industry."
Branstad, the longest serving governor in U.S. history, will soon be taking the job of Ambassador to China under President Trump. The Senate Foreign Relations Committee approved Branstad's nomination last week and the full Senate is expected to give final approval this week.