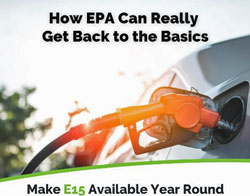 The Renewable Fuels Association (RFA) took to The Hill this week to push the Environmental Protection Agency to allow year round sales of 15 percent ethanol blended fuel across the nation.
In an op-ed published this week in The Hill, RFA president and CEO Bob Dinneen urged EPA to "eliminate an irrational summertime regulation that hurts both farmers and millions of Americans who drive a car."
This double whammy is the result of EPA fuel rules that effectively prohibit the sale of gasoline blends containing 15 percent ethanol (E15) from June 1 to Sept. 15 every year even though E15 is cheaper, cleaner and carries a higher-octane rating than other fuels.
Allowing the sale of E15 during the summer would reduce harmful emissions as well as prices at the pump. It would also increase demand for the value-added market farmers need to avoid higher farm program spending. It's a win-win.
RFA also ran ads in The Hill this week asking EPA to eliminate the restrictions on E15.