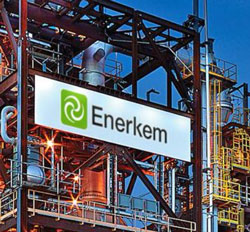 Enerkem Inc., a waste-to-biofuels and renewable chemicals producer based in Canada, has received the lowest carbon intensity value ever issued by the British Columbia Ministry of Energy and Mines for its ethanol product.
The confirmed carbon intensity of Enerkem's waste-based ethanol is set at -55 gCO2e/MJ. As a comparison, gasoline has an intensity of +88 gCO2e/MJ. This approval under the British Columbia Renewable and Low Carbon Fuel Requirements Regulation opens up the door for Enerkem to sell its advanced ethanol in the province, in addition to the local Alberta market where its world's first full-scale facility in operation is located.
Enerkem's proprietary technology converts non-recyclable, non-compostable household waste into advanced biofuels. The company also announced this month that its first full-scale commercial facility, located in Edmonton, Alberta, is fully operational and officials say they are expanding their footprint in North America and Europe.
In less than five minutes, Enerkem's technology turns household waste into 99.9 per cent pure liquid chemicals and biofuels. Since the start of production, the Enerkem Alberta Biofuels facility has been meeting the highest quality standards set by the International Methanol Producers and Consumers Association (IMPCA) for the production and sale of methanol. Last year, Enerkem's biorefinery also became the first ISCC certified plant (International Sustainability and Carbon Certification) in the world to convert municipal solid waste into biomethanol.