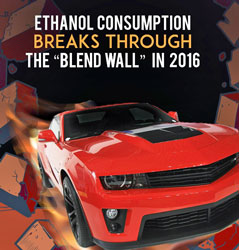 The latest U.S. Energy Information Administration (EIA) data for 2016 shows that gasoline consumed in the United States last year contained more than 10% ethanol on average for the first time ever, according to an analysis by the Renewable Fuels Association (RFA), demonstrating that the so-called "blend wall" is no constraint on ethanol consumption.
According to EIA data, finished motor gasoline consumption totaled 143.367 billion gallons in 2016. That volume of gasoline contained 14.399 billion gallons of ethanol, meaning the average ethanol content of gasoline consumed in 2016 was 10.04%. According to the RFA report, the data "…further underscore that statutory Renewable Fuel Standard (RFS) blending obligations in excess of the 10.0% level can be readily satisfied by the marketplace."
The analysis found that the national average ethanol content was 10.0% or higher in six of the last seven months of 2016, culminating with a record high monthly rate of 10.30% in December. That trend continued into this year as the ethanol blend rate hit a weekly record of 10.41% in early January 2017.
RFA says the data indicates that 2016 consumption of mid-level blends and flex fuels was at least 450 million gallons, and may have been more than 1 billion gallons "if the American Petroleum Institute's (API) assertions about ethanol-free gasoline (E0) demand are correct."
"Driven by the RFS and attractive blending economics, domestic refiners and blenders used more ethanol in 2016 than ever before and it's likely that trend will continue this year," said RFA president and CEO Bob Dinneen. "Consumers are gravitating toward E15, E85, and other mid-level blends where they are available. The oil industry can no longer claim the blend wall is any barrier to the effective implementation of the RFS."
Dinneen adds that the analysis "unequivocally proves" EPA needs to implement the 15 billion gallon statutory requirement for conventional biofuelas when it considers proposed 2018 renewable volume obligations.