As the U.S. Commerce Department last week initiated formal antidumping and countervailing duty investigations of biodiesel imports from Argentina and Indonesia, the biodiesel industry was giving testimony to the International Trade Commission on how those countries are violating trade laws and injuring American manufacturers and workers. Biodiesel imports from Argentina and Indonesia surged by 464 percent from 2014 to 2016, which has taken 18.3 percentage points of U.S. market share.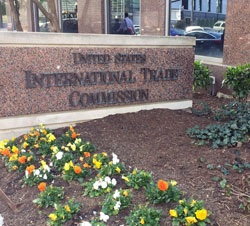 "Make no mistake, 2016 should have been a banner year for U.S. biodiesel producers with demand growth, stable feedstock prices, and regulatory certainty that should have led to profitability and reinvestment in their businesses, but unfortunately that didn't happen," said Anne Steckel, National Biodiesel Board (NBB) Vice President of Federal Affairs. "Instead, dumped and subsidized biodiesel from Argentina and Indonesia entered the United States in record volumes, capturing greater market share at the expense of U.S. producers."
Steckel testified at the ITC preliminary hearing along with U.S. biodiesel producer members of the National Biodiesel Board Fair Trade Coalition.
"Negative margins within our industry due to low-priced imports have had a major impact on our company, with a disproportionately greater impact on smaller producers," said Robert Morton, co-founder of Newport Biodiesel, a small biodiesel producer from Rhode Island. "We have halted several plant modification projects as a result of reduced working capital, even for modest projects."
"When we see biodiesel from Argentina selling at a discount to the market price of soyoil, the main input into biodiesel, we know we are facing dumped pricing," said Paul Soanes, CEO and President of Renewable Biofuels (RBF). "The United States is a key market for these exporters, and without a remedy, these unfairly traded imports are likely to continue unabated"
According to the Commerce Department's notice of initiation, there is evidence that dumping margins could be as high as 26.54 percent for Argentina and 28.11 percent for Indonesia.