The Renewable Fuels Association (RFA), in partnership with BNSF, the International Association of Fire Chiefs and TRANSCAER®, is hosting four ethanol safety seminars in South Dakota next week.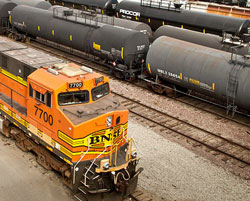 The goal of these seminars is for attendees to gain ethanol emergency response training experience that can be put to use in the field, as well as pass along to other first response teams. A majority of the training is based on the "Training Guide to Ethanol Emergency Response," a training package.
"BNSF is pleased to partner with RFA on these important ethanol safety seminars," said Derek Lampkin, manager of Hazardous Materials, Field Operations and Emergency Response for BNSF. "Safety is always our top priority and we want to make sure attendees have the tools they need in case of an emergency."
Attendees will receive in-depth information on proper training techniques that first responders and hazmat personnel need to effectively respond to an ethanol-related emergency. While primarily targeting first responders, hazmat teams, safety managers, and local emergency planning committees, it is also open to the general public.
South Dakota is home to ten ethanol plants and the seminars will be held April 23 in Worthing, April 24 in Redfield, April 25 in Brookings, and April 26 in Watertown.