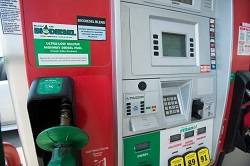 Over half of Iowa's fuel retailers carried biodiesel last year, up six percent from 2015 according to the Iowa Biodiesel Board (IBB).
The Iowa Department of Revenue released the 2016 Retailers Fuel Gallons Annual Report this month. The report shows during 2016, the amount of on-road biodiesel sold equaled 344.8 million gallons, or 54.7 percent of total on-road diesel fuel sales reported. This is up from 308 million gallons, or 48.7 percent of total on-road (clear) diesel fuel sales the previous year.
Also of significance, the report showed twice as many gallons of 11 – 20 percent biodiesel (B11-B20) were sold than of lower blends. In addition, 471 on-road retailers now carry biodiesel in Iowa, up from 405 in 2015.
"These milestones at the retail level show that Iowa's progressive biofuels policies are working as intended to increase production and consumption," said Grant Kimberley, Iowa Biodiesel Board executive director. "This industry is a powerful economic driver, benefiting the rural economy and consumers alike."
Iowa is the number one biodiesel producer in the country, with a record 305 million gallons produced by plants in the state last year.