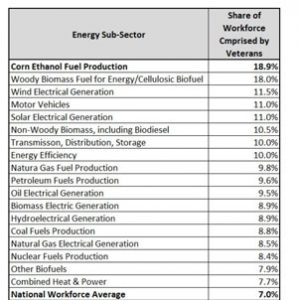 A new Department of Energy (DOE) study shows that military veterans make up a significant share of America's ethanol industry workforce which is not only larger than any other energy sector but more than twice the national average.
Nearly one in five ethanol industry employees is a veteran (18.9%), compared to a national average of 7% across all sectors of the workforce, according to the DOE study. The study also finds that the ethanol industry employs twice as many veterans as the oil and gas sector and nearly four times as many veterans as the coal and nuclear power generation sectors. Other renewable energy sectors, including advanced biofuels, wind and solar, also employ a relatively large share of military veterans.
These statistics confirm what veterans working in the ethanol industry have been saying recently, like East Kansas Agri-Energy (EKAE) CEO Jeff Oestmann, a former U.S. Marine who recently organized a letter from industry vets urging President Trump to include renewable fuels in his energy plan.
Nine of the 52 employees at EKAE are veterans, which is very close to the national average. "Working and investing in the ethanol industry allows us to continue honoring our commitment to making America stronger and more independent," said Oestmann during the recent National Ethanol Conference.
Listen to Oestmann's comments here: EKAE CEO Jeff Oestmann at #RFANEC