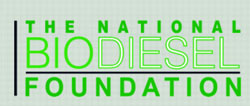 US Coachways has been supporting sustainability and cleaner air by monthly contributions to biodiesel research and education which as of this month have totaled $15,000 provided to the National Biodiesel Foundation.
"Thanks to donations from companies such as US Coachways, the Foundation has been able to administer and support valuable education and research projects," said Foundation president Jeff Lynn. "Over the past year we have trained hundreds of mechanics, improved the greenhouse gas emission profile of biodiesel, provided scholarships to next generation scientists, and educated key stakeholders and Congressional staff about the merits of biodiesel."

"We contribute because we want to see the motorcoach industry become cleaner and more sustainable, and we'd also like to encourage other companies to put their commitment to sustainability into action by making donations to this foundation," said Joseph Lucci, President of National Sales for US Coachways and its affiliates.
Headquartered in Staten Island, New York, US Coachways is a family owned and operated charter bus company that specializes in ground transportation for events such as school outings, religious retreats, camp transportation, team travel, weddings & other private events, and corporate client needs. With access to over 150 bus depots nationwide, US Coachways can help you move groups of people safely, efficiently and affordably anywhere in the United States. The nationwide company has made regular monthly contributions to the foundation since 2012.
The NBF is an inclusive, non-discriminatory 501(c) 3 organization working across the United States to create markets and expand support for biodiesel as an alternative, renewable fuel source.