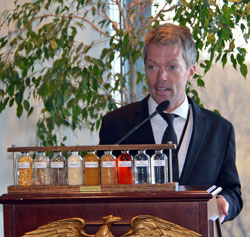 Eric Branstad, presidential advisor and son of Iowa Governor Terry Branstad, believes that the ethanol industry has the support of President Donald Trump.
"We've earned his support by first of all educating him as to how important the industry is, to Iowa, to rural America, to farmers," said Branstad, who spoke to members of the American Coalition for Ethanol (ACE) meeting in Washington DC this week. "We have the support of the White House we have the support of the president."
Branstad is a political strategist and lifelong ethanol supporter who engineered the very successful America's Renewable Future campaign to make ethanol an issue in the presidential election. Once the Iowa caucus was over, he was selected to run the Trump campaign in Iowa, and since the inauguration Branstad has served as senior White House advisor in the Commerce Department.
In this interview, Branstad talks about his relationship with President Trump and how he thinks his father's new job as Ambassador to China will help the ethanol industry. Interview with Eric Branstad, presidential advisor