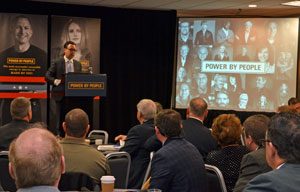 Over 70 ethanol supporters from the American Coalition for Ethanol (ACE) are in Washington, D.C. this week as part of the organization's 9th annual fly-in.
"This unique event brings together a group of advocates from all walks of life, putting a human face on the ethanol industry to communicate our policy priorities to Members of Congress and Executive Branch decision makers," said Brian Jennings, ACE Executive Vice President. "What sets ACE and this event apart is the emphasis we place on using our most persuasive and effective spokespeople for our industry; the people whose everyday life experiences and authenticity illustrate how the decisions made in Washington, D.C. impact their businesses and communities."
ACE members will have more than 100 meetings with lawmakers representing 35 states to convey the importance of the Renewable Fuel Standard (RFS), bipartisan legislation to extend Reid vapor pressure (RVP) relief to E15 and higher ethanol blends (S. 517 and H.R. 1311), and the biofuels sector to a robust rural economy. Attendees will also hear from Senior White House Advisor to the Department of Commerce Eric Branstad, who played a critical role in President Trump's successful presidential bid, serving as state director for the campaign in Iowa.
In this interview from the fly-in, Jennings talks about ACE legislative and policy priorities: Interview with Brian Jennings, ACE