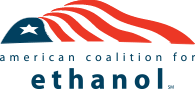 The American Coalition for Ethanol (ACE) board of directors recently elected officers and executive committee members for 2017.
Officers re-elected to the Executive Committee include President Ron Alverson of Dakota Ethanol; vice president Duane Kristensen of Chief Ethanol Fuels; and Secretary Dave Sovereign from Golden Grain Energy. Brian Wilcox with Nebraska Public Power District was elected to serve as Treasurer of the ACE Board of Directors.
Two new directors were elected to round-out the executive committee; Troy Knecht, representing the South Dakota Corn Growers Association, and Greg Krissek, CEO for the Kansas Corn Growers Association. Knecht operates a diversified farming enterprise in Houghton, South Dakota, and serves as the President of the South Dakota Corn Growers Association. Krissek has nearly 30 years of experience in agriculture and the ethanol industry.