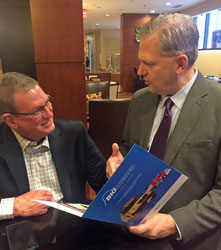 Biodiesel advocates are in Washington DC this week meeting with key leaders to discuss reforming the biodiesel tax incentive as a domestic production credit to keep the industry moving forward and creating jobs.
"It's simple. Biodiesel can continue to grow American jobs and prosperity in communities throughout the nation," said National Biodiesel Board CEO Donnell Rehagen. "Our members are making real investments and significant impacts across America, and they want to do more."
The American biodiesel industry currently supports 64,000 jobs across the US, many among the highest paying and most affluent jobs in an area. Moving to a domestic production credit for biodiesel could increase the number of U.S. jobs in the industry to more than 81,000.
"These aren't just jobs; they're great jobs. But American biodiesel will not reach its full potential under the current regulatory framework," Rehagen said. "Changes that ensure American tax dollars and American programs support American production are just common sense."
In addition to tax reform, leaders will push for additional growth in the Renewable Fuel Standard volume obligations. Biodiesel producers have more than 1.5 billion gallons of unused production capacity that stands ready to be utilized.