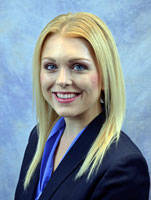 Former bioenergy magazine editor Katie Fletcher has joined the American Coalition for Ethanol (ACE) staff as Communications Director. Fletcher has been a writer for Ethanol Producer Magazine and Biomass Magazine and editor for Pellet Mill Magazine.
"We are excited that Katie Fletcher is bringing her exceptional communication skills, experience in agriculture and biofuels, and enthusiasm for ethanol to the ACE team," ACE Executive Vice President Brian Jennings said. "Katie is going to develop a stronger and more recognized communications strategy for ACE and our membership."
Fletcher grew up on the farm of a North Dakota corn grower and holds a Bachelor of Arts in both Communications and Political Science from the University of North Dakota.