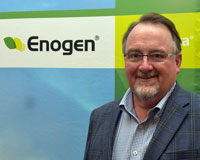 Recently appointed head of Syngenta Enogen Ron Wulfkuhle was at the recent National Ethanol Conference to talk about his new job and the increasing footprint of Enogen corn.
Wulfkuhle, who was formally head of GreenLeaf Genetics, says he jumped at the chance to step into this role at the end of last year. "It's a really cool place to be in the market because it's where seed actually comes together with technology, comes together with ethanol," he said. "We're creating a market that didn't exist before."
Syngenta announced earlier this year that it has reached agreements with ethanol plants from Arizona to Ohio with a combined total capacity of nearly 2 billion gallons. "We're up to about 24 plants that are using Enogen," said Wulfkuhle. He adds that Enogen is gaining in popularity because of the value it delivers and the opportunity it provides corn growers to be enzyme suppliers for their participating local ethanol plants.
Learn more in this interview: Interview with Ron Wulfkuhle, Syngenta Enogen