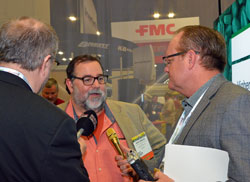 After sending the ethanol industry into an uproar this week over his talks with a Trump administration adviser about potential changes to the point of obligation under the RFS, Renewable Fuels Association president and CEO Bob Dinneen visited the Commodity Classic in San Antonio to talk about the issue.
"We remain opposed to changing the point of obligation because we are concerned that it would undermine the integrity of the program by creating a compliance mechanism that is unworkable, or that in a transition there would be disruption in the marketplace that would hurt the industry," said Dinneen. "If – and only if – those two concerns can be addressed, we'd be okay with moving the point of obligation."
If the industry is at the same time able to secure additional opportunities for ethanol, Dinneen says "it would be malpractice not to pursue those opportunities." In addition, Dinneen says there could be an opportunity to require the EPA to revisit carbon profile modeling to reflect benefits of corn ethanol.
Dinneen says he has been discouraged by the way some in the industry have reacted this week without all the facts. "I believe that once the industry fully appreciates what these discussions have been about and understand the narrow parameters we're talking about that people will appreciate the value it presents," he said.
Dinneen explains more in this interview and will also talk about the issue on Agri-Talk Friday. Interview with Bob Dinneen at Commodity Classic