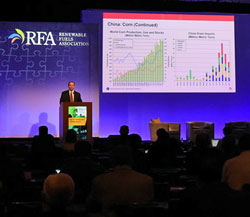 Ethanol exports continue to serve as a valuable and expanding revenue source for the U.S. ethanol industry. As part of a presentation during last week's National Ethanol Conference, Scott Richman, Senior Vice President, Informa Economics, provided an in-depth look at current market trends associated with global trade in ethanol and key factors that are driving ethanol demand.
"While the domestic market is still the dominant market for ethanol sales, it's no longer enough," said Richman during his presentation. "In recent months we've been producing at a rate of 16 billion gallons per year, so clearly export markets are vital for the future health of the U.S. ethanol industry."
Last year was the second largest year for U.S. ethanol exports, with a total reaching just over one billion gallons. Richman praised the collaborative work being done on the ground by the Renewable Fuels Association (RFA) and the U.S. Grains Council (USGC) to help create global demand for ethanol in several emerging markets.
"At least two thirds of our ethanol exports are going to countries with ethanol mandates," he said. "The policies that those countries have, and the work of the partnership between the RFA and USGC are critically important, and will remain critically important, on that front."
Richman also explained how low U.S. corn prices, global interest in lowering carbon emissions, increased global demand for high octane fuels, and recent industry challenges faced by the Brazilian ethanol market have all helped position U.S. ethanol competitively on the global market.
The importance of U.S. trade policy, as well as the political climate of countries that serve as key ethanol export markets, to the future success of U.S. ethanol exports was also discussed.
Catch the full presentation here:
#RFANEC Presentation-Scott Richman, Informa Economics