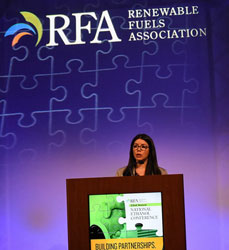 One of the sessions held during last week's National Ethanol Conference gave attendees the opportunity to learn more about the Export Import Bank of the United States (EXIM), the official export credit agency of the U.S. government.
In her presentation, Sandra Donzella, Deputy Managing Director for the Western Region, explained how EXIM provides help to exporters by filling financing gaps and managing export risks through its loan, guarantee, and insurance programs.
"There are great opportunities available right now for U.S. ethanol exports, and as you seek to do business internationally, you may find a key factor that is likely to impact your ability to win business and succeed internationally is whether or not you have the financial resources and flexibility able to offer your potential customers abroad competitive prices," Donzella said.
EXIM is not a bank and does not provide many direct loans, instead offering lenders with financial solutions that help exporters to mitigate risk while they work to become more competitive on the global market. Companies of all sizes and within all sectors, including agriculture and ethanol, have utilized the resources available from EXIM.
Some of the financial solutions offered by EXIM include the ability to provide working capital guarantees to commercial lenders who provide financing to U.S. exporters, as well as term financing and export credit insurance.
Listen to the entire presentation here:
#RFANEC Presentation-EXIM Bank