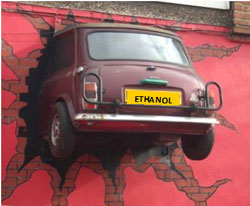 The latest numbers from the Energy Information Administration (EIA) show that ethanol officially broke through the blend wall in 2016.
The latest data shows U.S. ethanol production set a new record of 15.33 billion gallons (bg) last year and the average gallon of gasoline contained slightly more than 10 percent ethanol, according to the Renewable Fuels Association (RFA).
"Driven by the Renewable Fuel Standard and attractive blending economics, domestic refiners and blenders used more ethanol than ever before," said RFA president and CEO Bob Dinneen. "In the end, 2016 will forever be remembered as the year we left the fictional 'blend wall' in the dust once and for all."
Total ethanol production in 2016 was up 3.5% from the previous high of 14.81 billion gallons in 2015. The data also suggest domestic ethanol disappearance of 14.4 billion gallons in 2016 (14.06 bg of input by blenders/refiners and 340 mg of "supply adjustments"), along with exports of 1.05 bg. U.S. gasoline consumption totaled 143.37 bg, up 1.9% from 2015 and a new all-time record. The data imply an average ethanol blend rate across the U.S. of 10.04%, meaning higher level blends like E15 and E85 saw increased market penetration.
EIA also reported that a new monthly production record was established in December, with output averaging 1.047 million barrels per day.