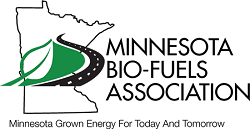 The ethanol industry contributed $1.98 billion to Minnesota's economy last year, according to a new study released by ABF Economics and commissioned by the Minnesota Bio-Fuels Association.
This in turn generated $6.67 billion in gross sales for Minnesota businesses and supported nearly 18,000 jobs in 2016.
"Minnesota's ethanol industry remains a significant contributor to the state's economy and supports thousands of jobs in both rural and urban parts of the state," said Tim Rudnicki, executive director of the Minnesota Bio-Fuels Association.
ABF Economics said Minnesota's ethanol industry generated nearly $1.5 billion in household income and paid $80 million to state and local taxes in 2016.
The study also found the ethanol industry used 410 million bushels of corn, or 26 percent of Minnesota's 2016 corn crop, to produce 1.18 billion gallons of ethanol, 3.5 million tons of dried distiller's grains (DDGs) and 244 million pounds of corn oil.
Read more.