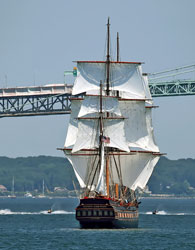 Biodiesel is taking to the high seas in a special ship traveling from Rhode Island to an ultimate goal of Cuba on 6,000 gallons of B20.
The 200-foot Sailing School Vessel Oliver Hazard Perry fueled up with 20 percent biodiesel this week at Newport Shipyard in Newport, Rhode Island as it begins a voyage from New England to Florida, then on to Cuba in March. The brand new SSV Oliver Hazard Perry is the first ocean-going, full-rigged ship built in the U.S. in more than 100 years.
Newport Biodiesel, a biodiesel producer based in Rhode Island, provided the B20 blend to Oliver Hazard Perry Rhode Island (OHPRI) at a discount.
"Supplying this ship with B20 biodiesel gives us a chance to support a worthwhile seafaring mission, while educating the public and marine industry about the environmental benefits of B20," said Robert Morton, chairman of the board for Newport Biodiesel. "This is the largest deployment of B20 we have ever done for a marine vessel, so it represents a significant step."
Morton, a former oceanographer, volunteers on the board of OHPRI and also serves as vice chair of the marketing committee on the National Biodiesel Board. He sees big potential for American biodiesel for marine use. Biodiesel not only reduces greenhouse gas emissions compared to petroleum, but biodegrades in water as fast as sugar and is healthier for people to breathe.