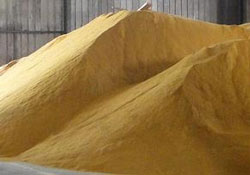 A new report from the Renewable Fuels Association (RFA) shows that U.S. exports of the ethanol co-product distillers grains (DG) were lower last year, mainly due to a significant drop in exports to China.
Exports of the high protein co-product of dry mill ethanol production used to feed livestock and poultry totaled 11.48 million metric tons (MMT) in 2016, down 10 percent from 2015's record-high but still the second-highest on record, according to the report. While China remained the leading destination for U.S. distillers grains, exports to that country dropped 63 percent compared to 2015 as anti-dumping and countervailing duties against U.S. product were implemented.
"Distillers grains and other co-products have become an enormously important component of the global feed market. This report underscores that our co-products are in high demand in every corner of the world," said Renewable Fuels Association President and CEO Bob Dinneen. "Unfortunately, we saw a slight downturn in total exports in 2016 because of China's protectionist actions to shut out U.S. distillers grains. Last week, RFA and our partnering organizations sent a letter to President Trump, alerting him to China's unfair and illegitimate trade barriers, and urging the incoming U.S. Trade Representative to address the issue. We remain concerned with China's actions and look forward to the administration's response to ensure free and fair trade between our countries."
One out of every three tons of DG produced in the United States last year shipped to 50 foreign markets, with Mexico, Vietnam and South Korea, Turkey, and Thailand growing by a combined 2.06 MMT in 2016 — equivalent to the annual DG production of 10 average-sized ethanol plants.