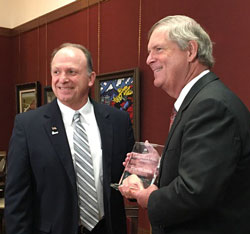 Growth Energy awarded former Secretary of Agriculture Tom Vilsack the America's Fuel Award, which is presented each year to an individual who has "gone above and beyond the call of duty to act as a champion for the renewable fuels industry."
"We are thrilled to recognize Secretary Vilsack with the America's Fuel Award for his remarkable commitment to the nation's most successful energy policy, the Renewable Fuel Standard. We thank Secretary Vilsack for his unwavering dedication to the growth and success of the American ethanol industry throughout his time as Secretary of Agriculture and Governor of Iowa," said Emily Skor, Growth Energy CEO.
Past winners include Growth Energy Co-chairman Tom Buis, Gov. Terry Branstad, retired Four Star General, Wesley Clark, and Richard Childress of Richard Childress Racing. The organization held its eighth annual Executive Leadership Conference last week in Miami.