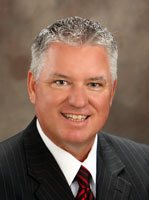 The National Biodiesel Board (NBB) has promoted Doug Whitehead to Chief Operating Officer, after 10 years in various roles with the organization, most recently as the Director of Operations and Membership.
"Doug has admirably served the biodiesel industry in his various roles at NBB over the years and his experience and expertise in operations, membership, strategic thinking, and management uniquely position us to continue our growth as an organization and as an industry," said NBB CEO Donnell Rehagen. "His deep understanding of the day-to-day operations of the organization allow us to continue serving our members in a highly effective, efficient way as a member association."
As Director of Operations and Membership, Whitehead managed the planning, implementation, administration, and reporting of all contracts for funding and subcontracting. He was also responsible for recruiting new members to the organization and served as the main point of contact for current members.
Whitehead is a native of Jefferson City, Missouri and a graduate of the Professional School of Architecture at Kansas State University. Prior to his time with NBB, he was a business development and management consultant where he worked with a wide range of non-profit and for-profit organizations, and he spent 15 years on the Jefferson City Public Schools board of education, serving as president of the Missouri School Board's Association in 2014/2015.