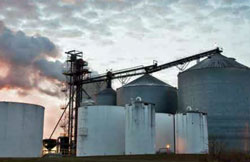 Ethanol production set yet another record last week, continuing a trend that started at the end of 2016.
According to Energy Information Administration (EIA) data analyzed by the Renewable Fuels Association, ethanol production averaged 1.061 million barrels per day (b/d) or 44.56 million gallons daily. That is up 10,000 b/d from the week before and a new record. It is the 14th week in a row with production above 1 million b/d. The four-week average for ethanol production stood at an unprecedented 1.054 million b/d for an annualized rate of 16.16 billion gallons.
Stocks of ethanol also are continuing to grow with the increased production, up .7% last week to 21.9 million barrels, while there were no ethanol imports for the 23rd straight week.